Here we will show how to set a Salesforce account via App Exchange. To use this, you must have permission for "Salesforce Connect".
* This page is about the older integration with Salesforce. If you are using Web APIs to link with Salesforce, that information is not on this page. Please see here.
1. Click on "User Name" at the upper right of the screen, and then on "Settings".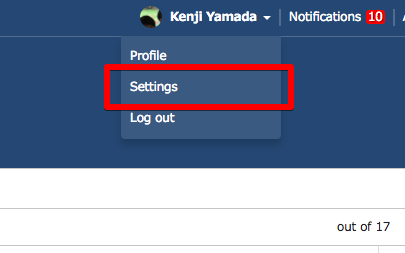 2. Click on "Salesforce".
3. Input your Salesforce User Name, Password, and Security Token, and click on "Save".
* For more information about Salesforce security tokens, see here. Depending on your Salesforce settings, security token settings may be unnecessary.
* If you are not sure what you are to input, please check with the Salesforce administrator or the Sansan administrator in your company .