If you have forgotten your password, please follow the process below to have a password reissued, and then log in.
Password reissuance process
 Step 1: Reissue a temporary password
 Step 2: Log in with this temporary password
 Step 3: Change your password
 Step 4: Log in regularly
Note
-The guidance email containing your temporary password will be sent to email addresses (including sub email address) registered in Sansan. If you do not know what email address you registered with, please speak to the administrator in your company.
-The same password will be used for Sansan for PC, the Smartphone Application, and Sansan for Mobile.

Please use the password you make in Step 3 as your regular password.
* If you are using AD Intgration in your company, please speak to the administrator in your company.
Rules for setting passwords
・-The password must be 8 characters or more
-Only one-byte characters can be used
-The password must contain a combination of letters, numbers, and symbols.
-The password must not be something that can be easily guessed (e.g. "Password").
 
Procedure
1. Access the log-in screen of Sansan for PC.
2. Click on "Forget your password?.".
2. Input the email address registered to your account, and click on "Send". You cannot reissue a password by inputting your sub-email address.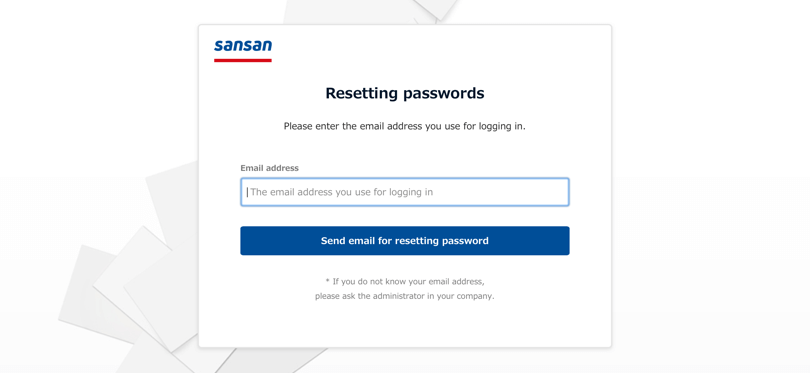 3. A temporary password will be emailed to the registered email address.
* Even if you make a mistake inputting your email address, "Email Send" will still be displayed. If no email arrives, please check what you input again.

4. Check the necessary value for logging in from the email, and then from the log-in screen, input your email address and temporary password to do the temporary log-in.
Subject:Information Regarding Reissuing Password
5. From the password change screen, please input a new password of your choice, click on "Reset password", and then you can log in. This will be the log-in password used for Sansan for Mobile as well.
(1) Input new password of your choice.
(2) Input the same password you input in (1).