This function lets you search for a specific person or company for risk, but without having to enter business cards into Sansan.
Use of the function requires use of Risk Intelligence powered by Refinitv/KYCC.
*Only risk check managers can use the function.
*A usage agreement must be accepted to start using it.
Items
Setup
The risk search function needs to be enabled in the Risk Intelligence powered by Refinitiv/KYCC settings.
Click on ① "Admin settings", then ② "Sansan Plus" and ③ "Connect" or "Edit Settings".
Check ① "Enable"" in the settings and click on ② "Save".
Confirm the contents of the agreement and check ③ to agree with them and start use."
If you've already started using either Risk Intelligence powered by Refinitiv or Risk Intelligence powered by KYCC, activating risk search in one will automatically activate it in the other.
Once the function is enabled, the ① Risk search tab will appear on the Risk Assessment screen.
You can check the number of searches per month from ② Risk searches this month:○.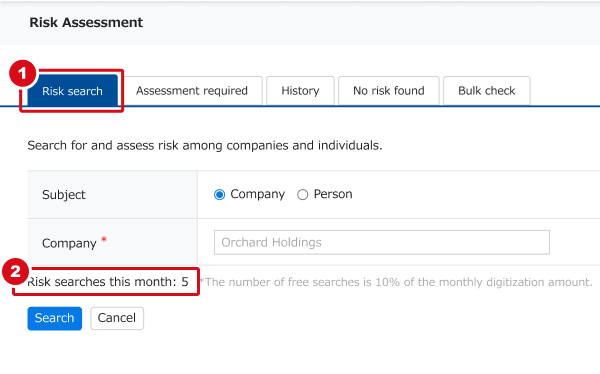 How to use risk search
1. Search
Click on "Menu" then "Risk Assessment" to open the risk search screen. Specify what you want to search for and perform the search.
2. Assess
① If there are search results, check if they match the counterparty's information.
② If there is risk information, "Available"" will be shown and you can check the details.
③ If the risk information in the search result is tied with the risk information, use "Assess" or "Reassess".
④ If there is no applicable risk information, record the transaction as acceptable by clicking on "Record the assessment"."
The "Record the assessment" screen will open.
① Enter the name of the company or person. If you assessed a person affiliated with a company, enter the company name.
② The text entered will appear in the company details' assessment status.
See more about this here.
③ Assessment details, date, etc. can be entered in the notes for easy referencing.
④ If an assessed company or person's company name, address, and phone number match the full text, the assessment will be overwritten and saved. The remarks will be saved as an appended note.
Once saved, it will be added to the History.
Related information
More about risk check managers here
More about Risk Intelligence powered by Refinitiv here
More about Risk Intelligence powered by KYCC here